Latest post of the previous page:
71whitewesty

wrote:

↑

Wed Oct 04, 2017 9:10 pm

It's a dual port. I have switched the wires too. They are on correct. A vacuum leak sounds right to me too. It's much more noticeable when it's warmed up and choke is off.
Make sure your carb manifold boots are slid over to the stops on the cast intake manifolds that bolt to the head. I screwed that up one time too! I didn't slide them all the way over to the correct position and had similar symptoms. Spray the cast manifolds where they bolt to the head with something like carb cleaner to see if maybe the leak is there.
I also agree with Robbie in that your should adjust your carb. 2.5 turns out from closed on the volume and bypass screw is a baseline setting. My buses volume screw is out 3.5 because that's what the engine liked.
What number Bosch distributor are you running? The spark plug wire locations on the distributor cap are different on the SVDA and DVDA distributors after 1971 vs.1970 and before Bosch distributors.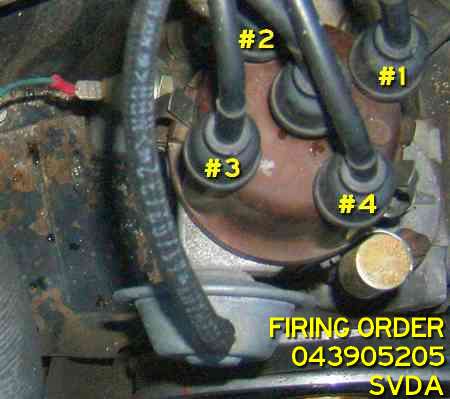 ^^ This picture is 1971 and later Bosch SVDA and DVDA spark plug wire orientation
^^ 1970 and before distributors