I pride myself in my troubleshooting skills. The other day I got a big ol' slice of humble pie.
After we returned from our Maupin trip the bus was pulling hard to the right. Much like it did with the INSANE quartering left headwind we experienced driving through the always windy Ellensburg (I will never live there). Earlier in the year, just after finishing my rebuild I had an issue with my left front tire. I swapped it with my spare and things were better. Why this recent experience didn't point me to another tire problem I don't know. My idiot brain went directly to WHEEL BEARING! In my defense, it was the tiniest bit loose. With the wheel jacked up off the ground there was the slightest "click" when pushing/pulling the wheel at the top and bottom. I could have just tightened up the bearing, but with the severe pull I was experiencing I figured the bearing must be totally shot. Alrighty then with wallet ready I jaunt off to the parts store and $46.00 later I arrive back home with brand new inner and outer bearings, a new seal and a can of brake cleaner. I dutifully replaced the bearings I had just replaced 10,000 miles ago. Whadya know! No change whatsoever! Yes, I've kept the perfectly good, gently used bearings as spares for an ACTUAL bearing failure.
So finally I tumble to the possibility that this might be yet another tire issue. Doing what I should have done in the first place, I swap the left (most recently spare) and right front tires. Whadya know! Now the bus pulls hard to the left! (Where's the blushing emoticon when you need it?). So off to my favorite tire store, Les Schwab. Sorry mid-west and east-coasters this is our little gem out here in the north and central western states. Mike (great guy!) takes one look at the tires and proclaims "you've got a slipped belt on that one" (newly-swapped right front). I would normally have been skeptical of a death sentence pronounced by a guy selling the things he says are worn out except when I was swapping the tires the now-right front didn't roll properly. My criteria for tires = round and black. This tire was still black but certainly wasn't round anymore. Mike fixed me up. Good thing my wallet was still ready and raring to go!
Baby gots new shoes! Mike could have special-ordered the Hankook RA08's like I have on my wife's bus but I didn't really want to wait that long and I honestly wanted to try something different than the Hankooks everyone else (including myself) has. So without further ado, may I present the Thunderer Ranger R101!
No, I didn't destroy the picture using that stupid Instagram, the lens cover didn't completely open on the camera which is what is providing the shading in the upper left and lower right corners.
They have a nice, deep tread pattern.
You'll have a tough time Googling "Thunderer". It turns out they're made by TBC which makes "store brand" tires for local/regional tire stores like Les Schwab. They also sell this tire under their "Multi-Mile" brand. You can find Multi-Mile R101 in their catalog which gives all the specs and whatnot.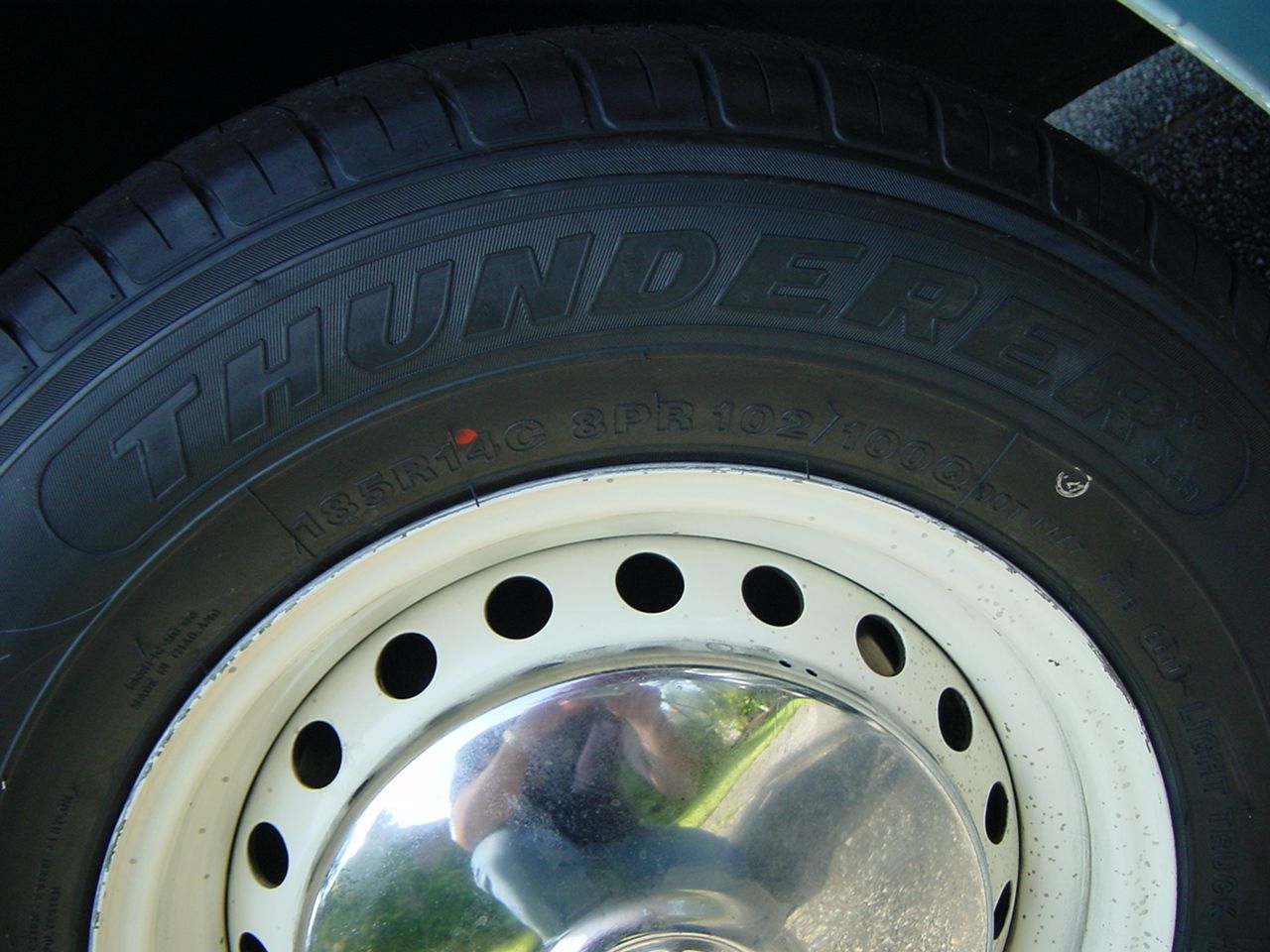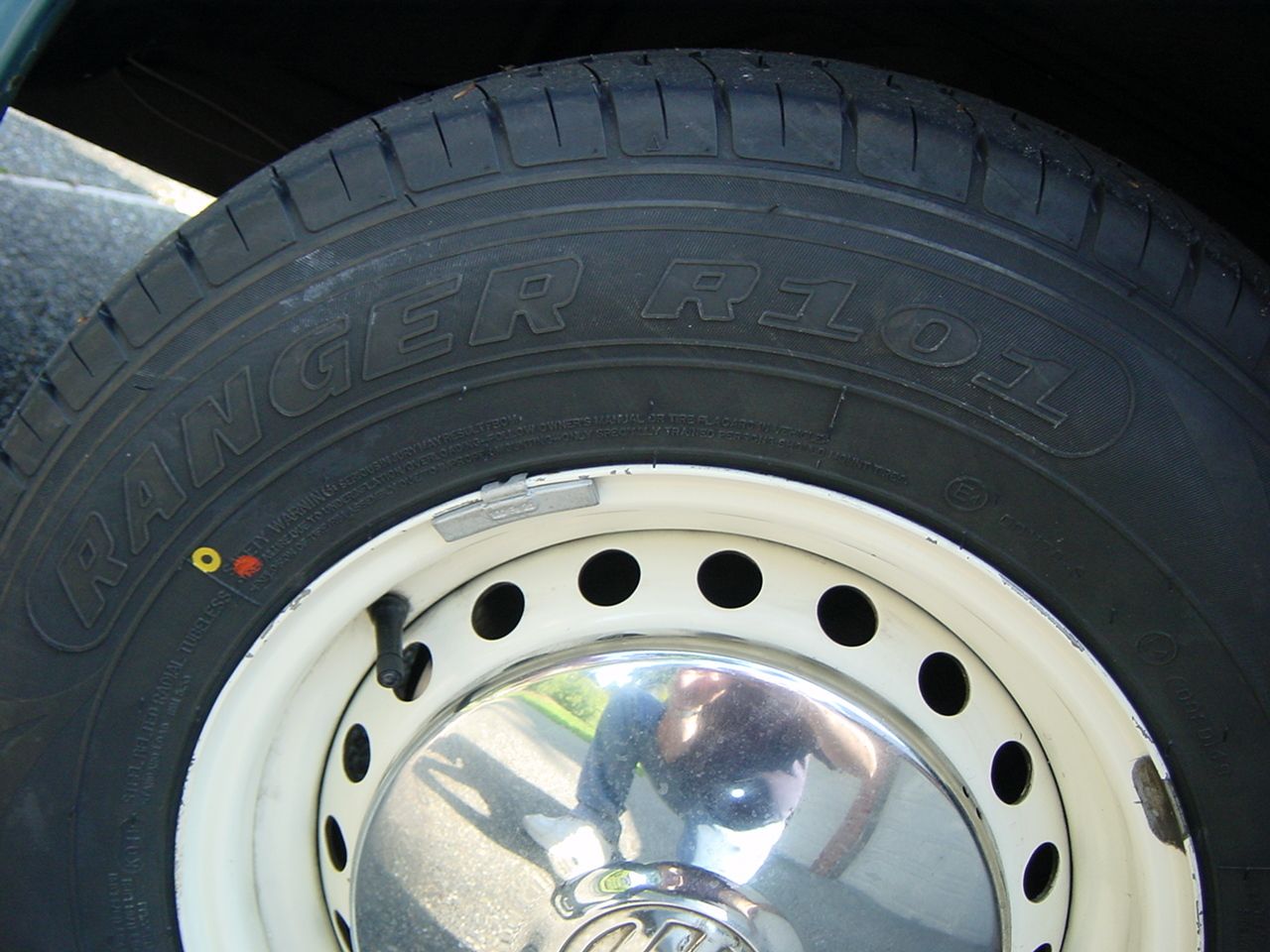 Speaking of specs, these little beauties are certainly up to the task.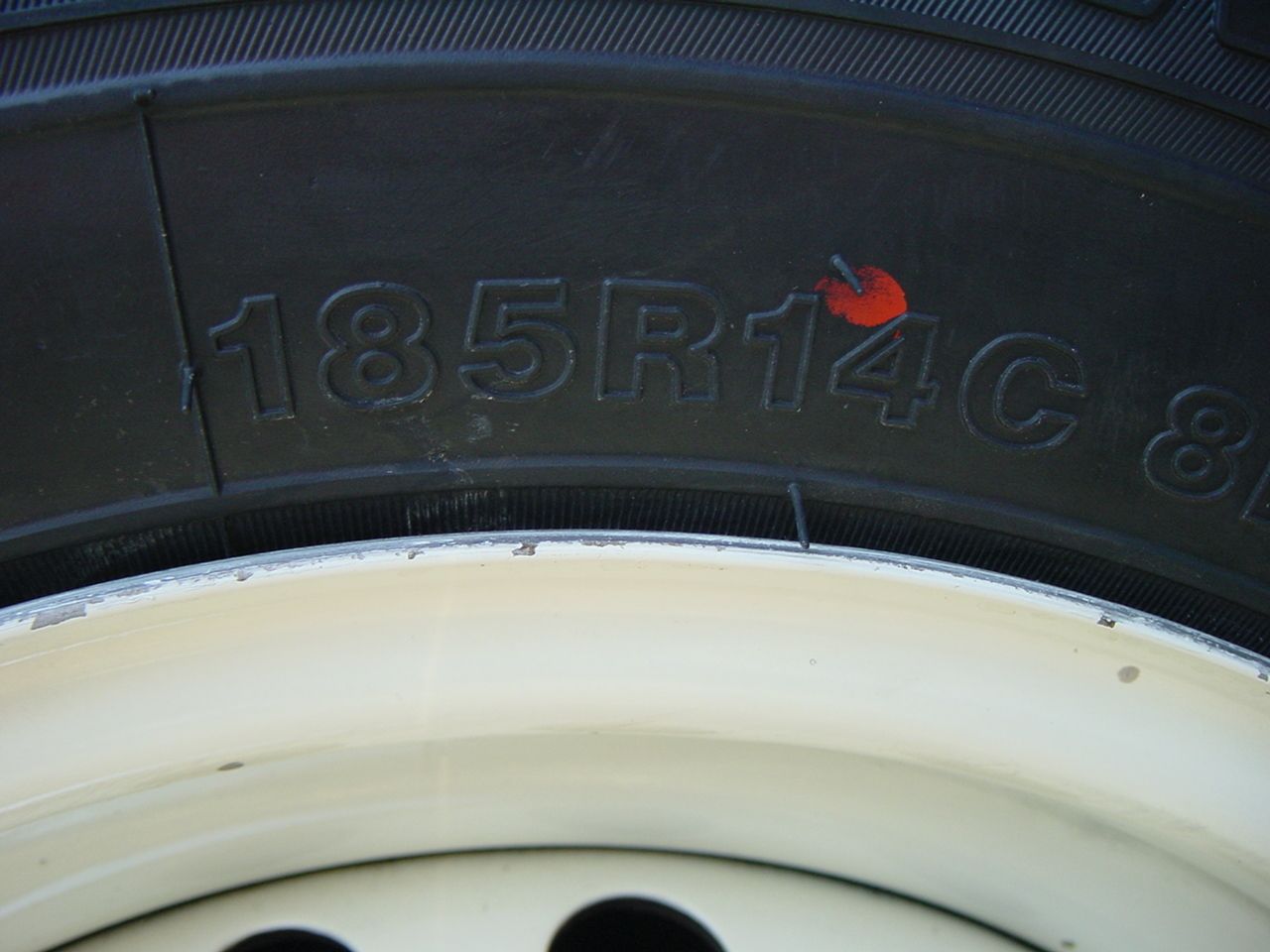 Their country of origin is Thailand. I hope that's not a bad thing.
So after Mike put these on, he also checked the front end alignment and everything was in or really, really darn close to spec so we left it alone. The fact you can only adjust camber and right side toe helped with this decision. I drove it home with the 45 psi Mike put in them and I thought he had installed power steering along with the new tires. I still had a very slight pull to the right but when I got home I reduced the pressure to the recommended 30 psi and haven't driven it since. I'll have my first opportunity when I drive to work next and after a reasonable "getting to know each other" period I'll let everyone know how they perform. Three tires (left and right front and a spare), mounted balanced and installed with a free alignment check totaled $480.00. The rears, by the way are LT195R14 Eldorado ZR4 traction tires which both Mike and I agreed still have plenty of life left in them.